LIVE-SR SUPER RESOLUTION MODULE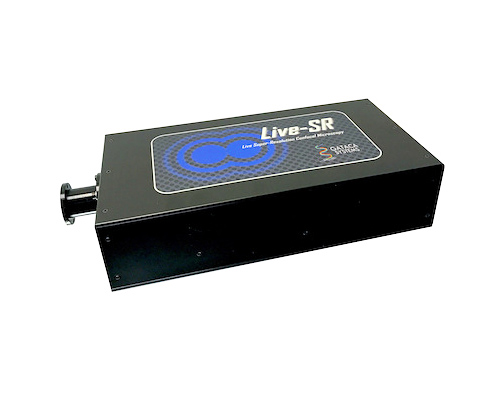 Live-SR is based on optically demodulated structured illumination technique with online processing. Combined with spinning confocal, it enables Super Resolution to be achieved at high speed and low photo-toxicity, making it the ideal solution for live high resolution cell imaging. Moreover, because of the nature of the light modulation, no line or pattern artifact is created. One aquired image gives one super-resolved image.
3D resolution improvement up to 105nm*
Access to optically improved intermidiate images (160nm*)
Acquisition speed up to 1000 super-resolved fps
Live / Focus mode in real time
Motorized bypass mode
No specific fluorophors required
Low photo-toxicity for live imaging
Simultaneous multicolor imaging
Batch processing (channel, z stack , multiple position)
Combination with FRAP/PA and photo-ablation capabilities
In depth imaging with water or silicone objectives
Data acquired on a GATACA system with a PRIME 95B camera. 15µm Z stack of a mitotic network, 35µm deep in fixed mouse oocyte.
Courtesy of Damien CLADIERE, Katja WASSMANN lab.